Well it all started out in the summer. I got pictures of a good 8 point that had good mass. After that he disappeared untill Sept. 18th. I got one picture of a deer that looked familiar but i wasent sure. after going back through pictures i figured out he had broke his G2 off. Since then He has had the name Claw.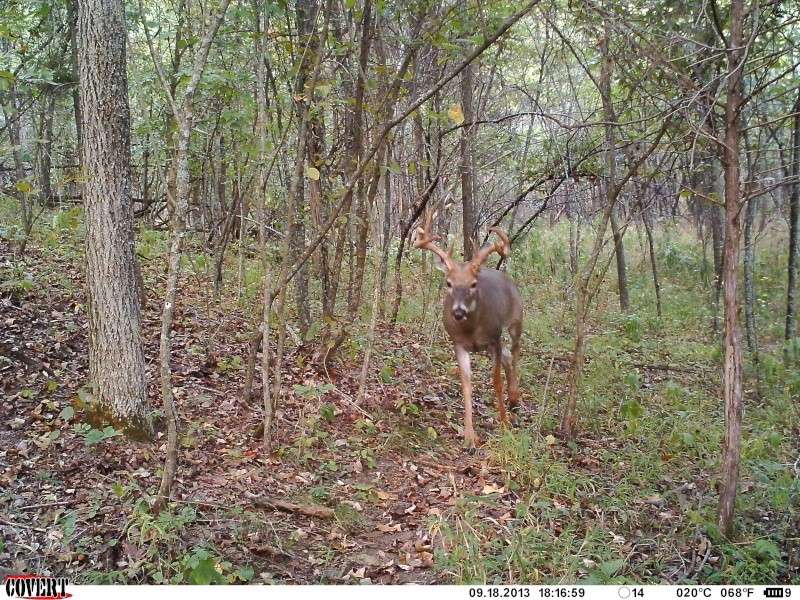 After that picture he pretty much became a regular. He was on every camera in the same field. He liked to travel though. i Had him on camera a good ways away on another part of the farm in mid Oct. then he went back to the same backright side of the farm. I had him on camera alot back there. When i started gettin alot of pictures of him i figured i would try to chase him. This farm and surrounding farms get hit pretty hard during gun season so i cant really let deer age cause they just go to the next ridge and get plowed by a rifle. I shot my 9 point and was hopein he would survive gun season. I had him on camera up untill i pulled all my cameras off the farm Friday so they wouldnt get stolen.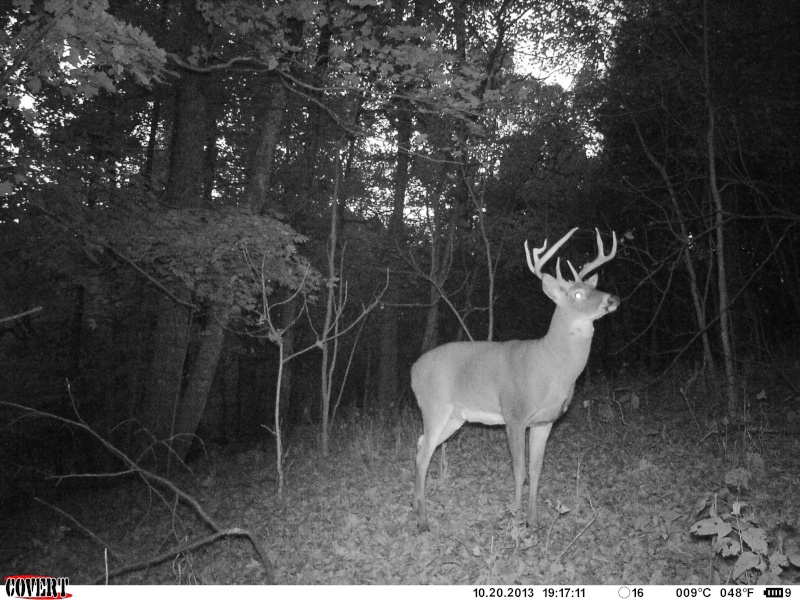 Fast forward to today. I was filming my brother and got a text half way up the tree at 3:00. i got up and looked at my phone and my dad said "Shot a good one" i called him and he said he had a broken G2 and a big Claw. I Knew right then who it was. I was really hopein he would survive gun season cause i knew he would turn into somthin good if he was young. But I guess it wasent meant to be. We havent score him yet but im going to head over there tomorrow and cape it out for him.
Its gonna suck Not gettin pictures of him now. He was really the only regular i have on this farm. i think most are just passer throughers.
Also This morning Me and my brother had a buck come in and he shot and hit the top of his climber with his cam. Kinda jacked it up. It doubled the string over, Knocked the String Stop off, and splintered the limb alittle. But it still shoots without a let off though. So he has to use my bow For the time being. When im there only though.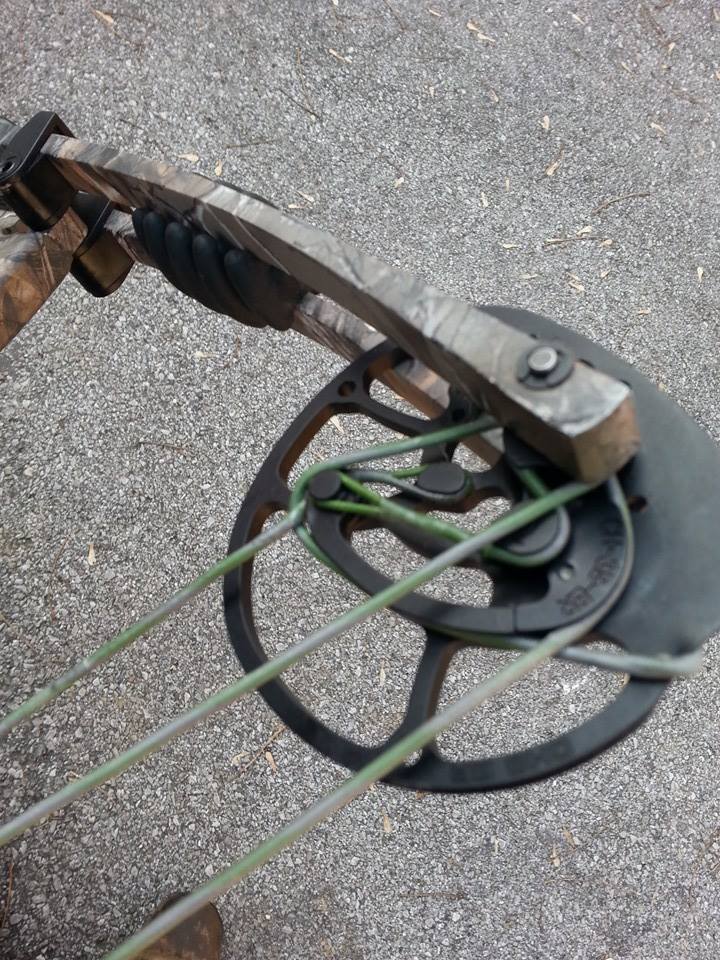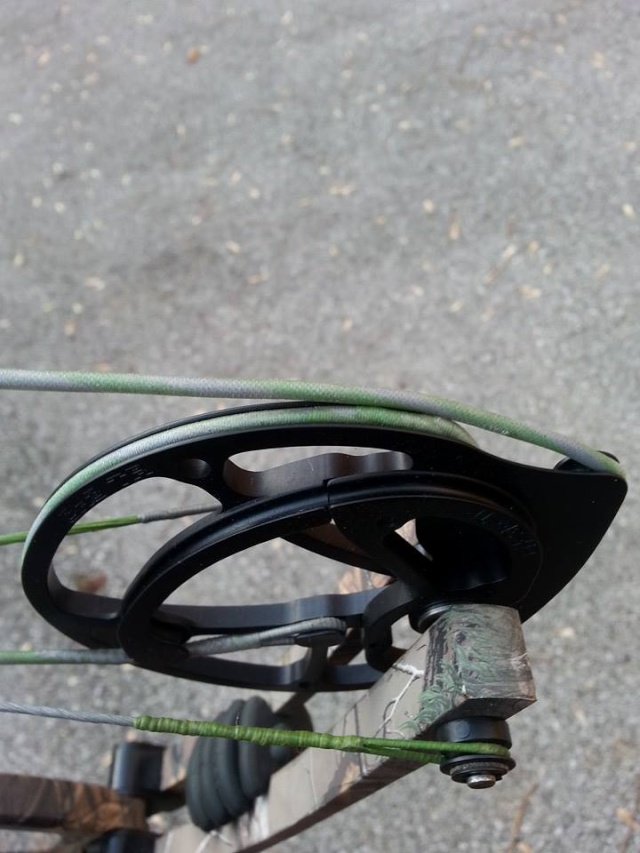 Keep your head up man I know you have bigger ones running around. Look at the bright side at least you will always look at him on your wall instead of someone else getting to, and you go all off season wondering if he survived or not to find out hes not there anymore and have to assume someone else shot him.
Congrats to your dad  Jacob,  trust me  I know how you feel!!!!  Heck  I get to look at my last buck on the way every day but  I sure as heck still miss seeing him live  to this day,    

  your only human my friend

_________________
USAHUNTINGPROS.COM ProStaff
Carbon Impact
Wildlife Research Center-http://www.wildlife.com/
Nikon
Hoyt Element
I love my whitetails and big ole ugly Jellyhead's

bowGal

Super Booner!!





Posts

: 16797


Join date

: 2009-04-19


Age

: 57


Location

: Pike,Adam's Co, Il



Dude don't shoot that bow if the limb's even "a little" splintered, get it check out.  Once you've had a bow blow up on you you wont mess around guaranteed.  

As far as the deer goes, heck I miss getting pics even if I'm the one who shot 'em, I can see what you mean.

bow_dad

Super Booner!!





Posts

: 4869


Join date

: 2009-07-28


Age

: 44


Location

: Indiana



I'ld give anything to be able to get just one text from my Dad!  Congrats to your Dad!  Life is a flash...With that buck gone another will claim your woods and you will be able to start anew!!
Just in time for the serious chasing too!!  Your gonna have a slob come in there with the smell of come and get me at the tip of his nose looking for love!  He's gonna find that and realize there's no fresh smell of dominance here...he'll post up and stay awhile and decide after having his way with the place that he likes it and stay or he'll leave only to come back year after year so some pore sole watching him all summer can put on a post somewhere that he has this super buck all summer only to disappear each fall to parts unknown!
Nature is amazing!!

shedder

Super Booner!!





Posts

: 3621


Join date

: 2009-06-12



I was just watching a Whitetail Properties and today's show reminded me of your situation.
They had a buck they were watching but wasn't spending too much time on their farm...he was a great buck but just wasn't the dominant buck.  Once that dominant buck (South Paw) was harvested this new buck quickly moved onto the farm.  The one that would only visit the farm occasionally took the farm over with South Paw gone. 
New story, same farm, bigger buck...
Betchya your farm already has a new buck lurking! 


shedder

Super Booner!!





Posts

: 3621


Join date

: 2009-06-12




impactarcher

Super Booner!!





Posts

: 2572


Join date

: 2009-09-01


Age

: 47


Location

: Cedar Rapids, Iowa



Congrats to your dad on a sweet buck Jacob
That is a cool buck!! Congrats to your Dad!!!

Godfather

Super Booner!!





Posts

: 4008


Join date

: 2009-05-30


Age

: 43


Location

: Butler, PA




---
Permissions in this forum:
You
cannot
reply to topics in this forum