So this morning Jacob (Kyhunter123) and I got in the stand about 6:15ish. Jacob was videoing,and I was suppose to shoot the first doe that came in then we would switch. Well it got daylight and we had a coyote run across the field but couldn't get a shot. Next thing we know right where that coyote had ran to 7 Big Does started chargin our way. They got right to the property line and never jumped the fence just followed it down to the neighboring bean field. We waited an hour after that and nothing not a single deer. We were both underdressed and it was 20Degrees with a 9Mph wind so we decided to grab camera cards go back to the house warm up and see what's been on the cameras. After we checked cards Jacob wanted to grab his bow and walk the long way back to the cameras in hopes we would jump something up so I grabbed the video camera and we began walking. Not 5 mins in we jumped up this doe and he got a clear 30yard shot and whacked here. We gave here 10 minutes then went to get her. She literally died 15 steps away from where he had shot her. So we dragged her back to the house and I still needed to put the cards back in the cameras. I ran in the house and grabbed my bow this time and gave him the camera. We walked the long way all around this time and nothing. Put the cards in the cameras switched the batteries out of em then headed back a different way. We were maybe 60 yards from my house when I here Jacob behind me say Deer. I slowly turned to my left and there she was standing 15 yards away. I had Jacob start filming and I slowly pulled back then let her fly. She dropped on spot.
The deer didn't come to us so we had to go to them. We managed to pull this off within 20 minutes of each other lol. Luck

  First Bow kill of the year for me and first kill with my New Hoyt. https://www.youtube.com/watch?v=xDbUbA6KHuk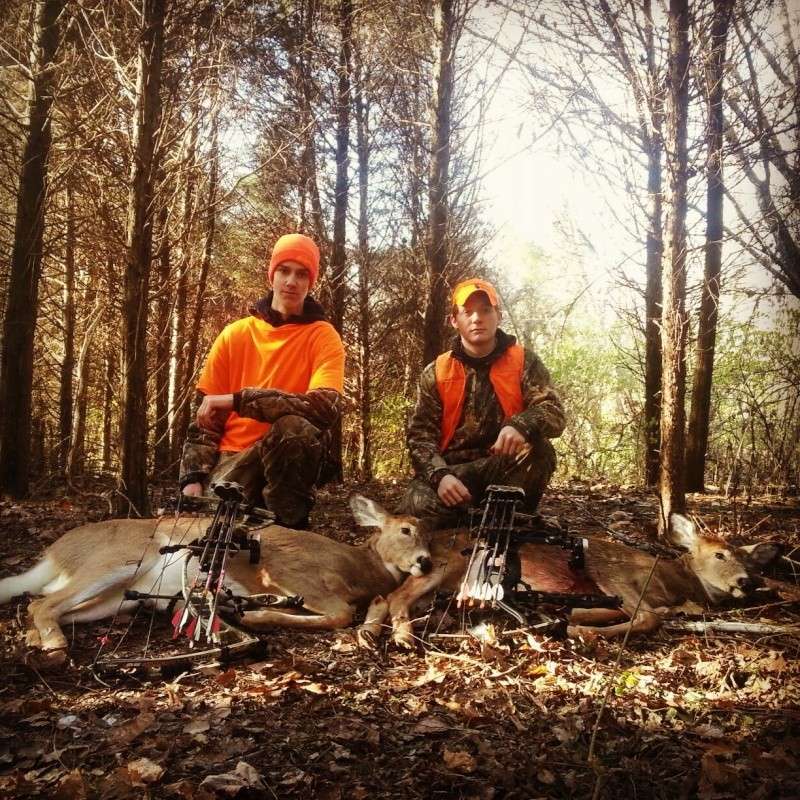 What a rage will do for ya!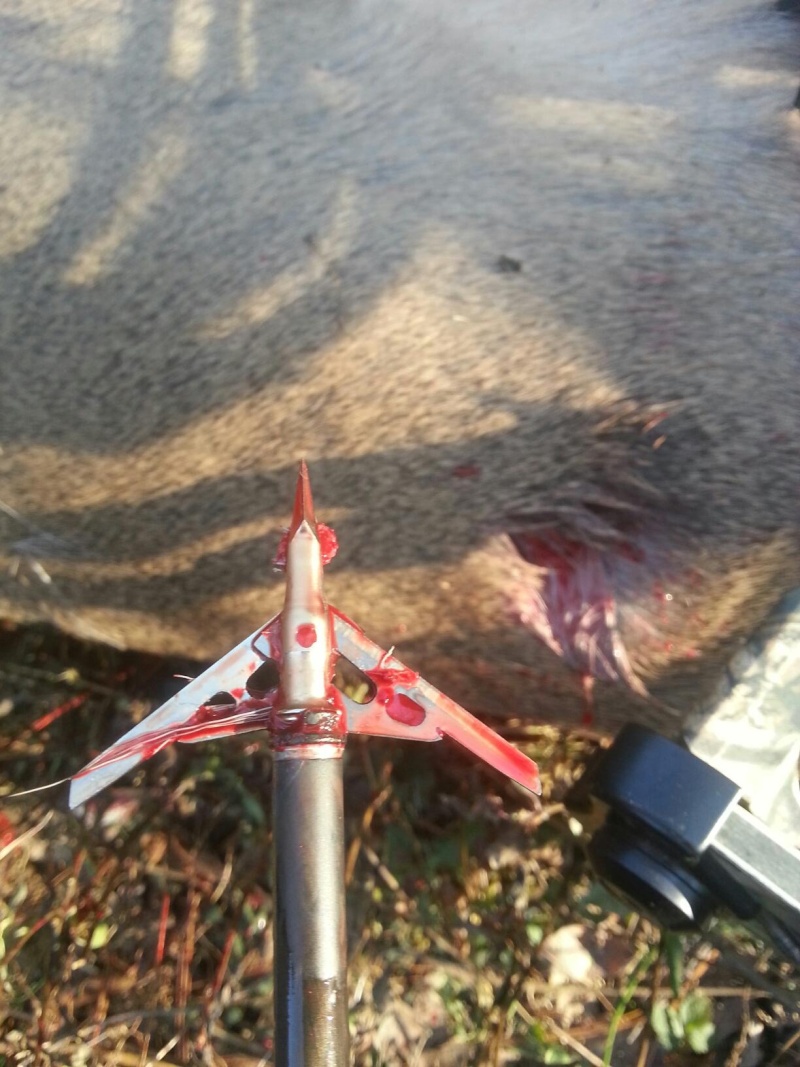 Last edited by DMW97 on Sun Nov 24, 2013 8:31 pm; edited 1 time in total
How Sweet is that, Way to get it done you 2 

 Congrats
Way to go guy's , That is awesome , congratulations

_________________
USAHUNTINGPROS.COM ProStaff
Carbon Impact
Wildlife Research Center-http://www.wildlife.com/
Nikon
Hoyt Element
I love my whitetails and big ole ugly Jellyhead's

bowGal

Super Booner!!





Posts

: 16797


Join date

: 2009-04-19


Age

: 57


Location

: Pike,Adam's Co, Il



Thats awesome guys! Congrats

Boss Gobbler

Hole In Horn





Posts

: 1367


Join date

: 2009-07-28


Location

: KY



Nice job fella's 


_________________
When they come for your guns, Make sure to give them your bullets first!

Mountainman Vic

Super Booner!!





Posts

: 5027


Join date

: 2009-08-13


Age

: 46


Location

: Cameron co. PA



way to go fellas!!! Very cool!

MEhunter

St. Louis





Posts

: 815


Join date

: 2010-06-24


Location

: Maine



Excellent job guys!!!  CONGRATS!

shedder

Super Booner!!





Posts

: 3621


Join date

: 2009-06-12



Congrats! Nice job, I love that first pic with both does. Looking good

TheCReW

Super Booner!!





Posts

: 2634


Join date

: 2011-03-29


Age

: 36


Location

: Northern Saskatchewan



Nice job fellas!!! Congrats!

Godfather

Super Booner!!





Posts

: 4008


Join date

: 2009-05-30


Age

: 43


Location

: Butler, PA




wihunter24

Super Booner!!





Posts

: 2192


Join date

: 2009-07-05


Age

: 34


Location

: Western Wisconsin (God's Country)




---
Permissions in this forum:
You
cannot
reply to topics in this forum