Well this past weekend was full of highs and lows!!! I was able to tag a doe right before she started blowing and ruining the remainder of my hunt (Pic's under entry). In the past weekend I was able to set my eyes on two 5 1/2 year olds cruising during the daylight.  Flat Top is one and then another buck I have named Unbreakable.  Man the deer were moving and more importantly the big bucks are moving. 
Move forward to Sunday night and I decided to sit a secluded field planted in winter wheat.  The hunt was really slow and it was interrupted by one of the farmers driving around on his UTV to check the fields.  He decided to stop and ask my how my hunt was going; so after a few minutes of talking he moved on and I looked at my clock to notice 1.5 hours left of legal light. 
So as I sat in my stand wondering if I would see anything I get an update from my dad that two big bucks just pushed three doe in the block of timber I was hunting near.  He told me one was a MONSTER and anytime you hear those words you get stoked!!!  I sat in the stand and just about 40 minutes before the end of legal light I spotted movement and three doe popped out into the field.  They worked through the field not showing any signs of being nervous or bumped.  I figured they just weren't ready yet and the bucks moved on.  Well 20 minutes before the end of legal light I spot another deer on the edge of the field.  I grab my bino's and see he is a buck I do not know.  I noticed he was outside his ears, the main beams twisted up at the points and he had tall tines!!!  I knew I was going to take a shot if it was presented and time allowed.
Well this buck stood at the field edge, being cautions and suddenly he started working right at me.  I knew I wasn't going to take a front on shot or try to spine him.  So I waited.  The buck moved into to 12 yards and stopped and smelled the tracks left by the UTV.  He then turned and was now broadside.  He took two more steps and I was in my only lane I had to get a shot off.  Take you back to the stand prep for a moment.  I left brush on my left side to allow me time to draw as deer moved towards my stand.  Not figuring they would come from the opposite direction or straight on and work the other way.  No back to me at full draw.  I had this deer at 12 yards, broadside, stopped on his own.  I put my pin just behind his shoulder and let it fly.  I get blinded by the lighted nock and I hear a loud "WHACK."  Then I see the buck jump and kick as it snapped my arrow off.  All of a sudden my heart dropped.  I knew I hit the shoulder!  WHYYYYYY???  I let the deer lay for an hour and went back to the impact sight to find my arrow with 3" of blood on the shaft and only 4" broke off.  I got lumps in my throat and my chest hurt.  Well we found blood and decided to let it lay over night.
(Colored Picture was taken 4:32pm (time off due to time change) and my encounter was 30 minutes later)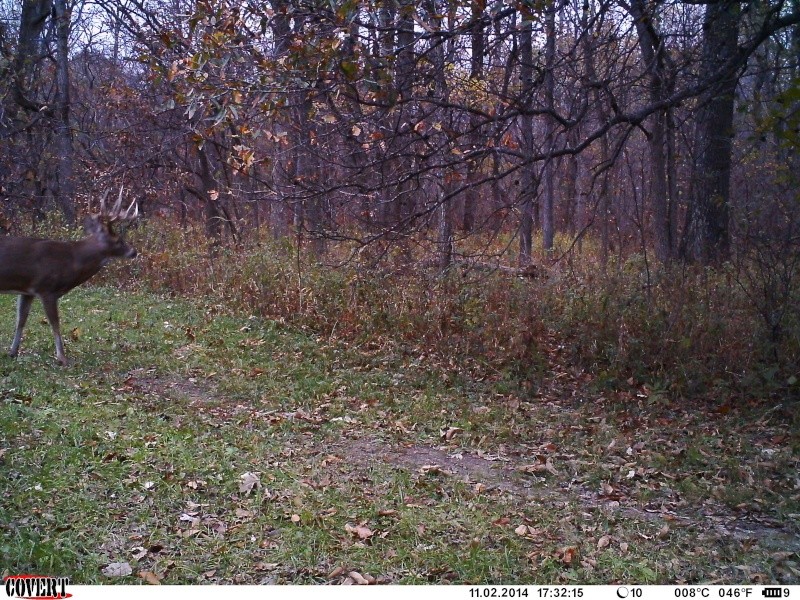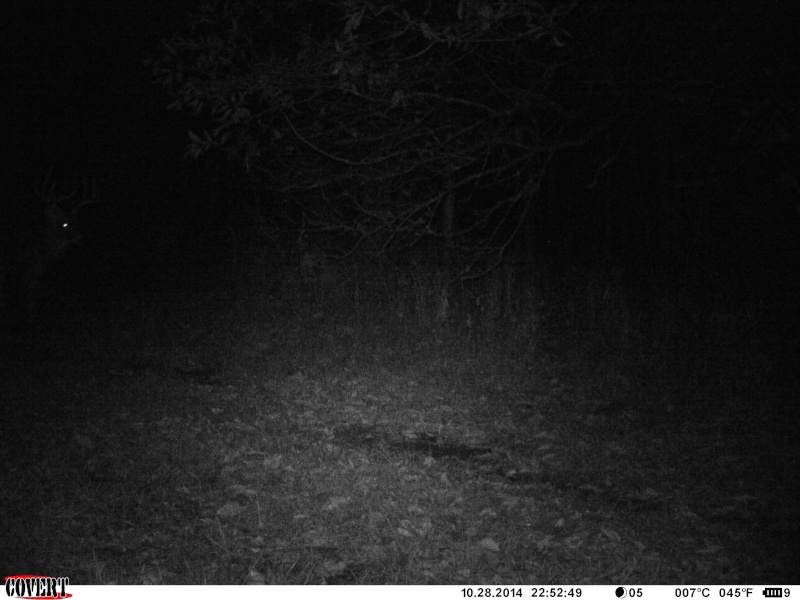 We went back to town, I had dinner with my pops and then he had to head home to return to work. I stayed the night and had a sleepless night.  I woke up bright and early and went back to the first sign of blood (13hours later).  I was able to track the buck and found three beds and just after the last bed I found a few more specs of blood and lost the trail.  I checked every draw, ditch, creek and trail in that area and I just couldn't find my deer.  I felt that I had done everything I could and now I could only hope it was not a fatal hit and the deer would survive.  I was sick, dejected and replayed the encounter over and over!!!  I loaded up and got on the road.
After driving over half way home I started searching for blood hounds in the area of my farm.  I found one that lived 10-15 minutes away; it was fait! I placed the call and he was already on a track, but arrived at the farm just before dark.  While I was waiting for him to arrive I contacted all the neighbors and got permission to give chase with the dog to try and retrieve my deer. 
About 5 o'clock Dio arrived and was ready to work!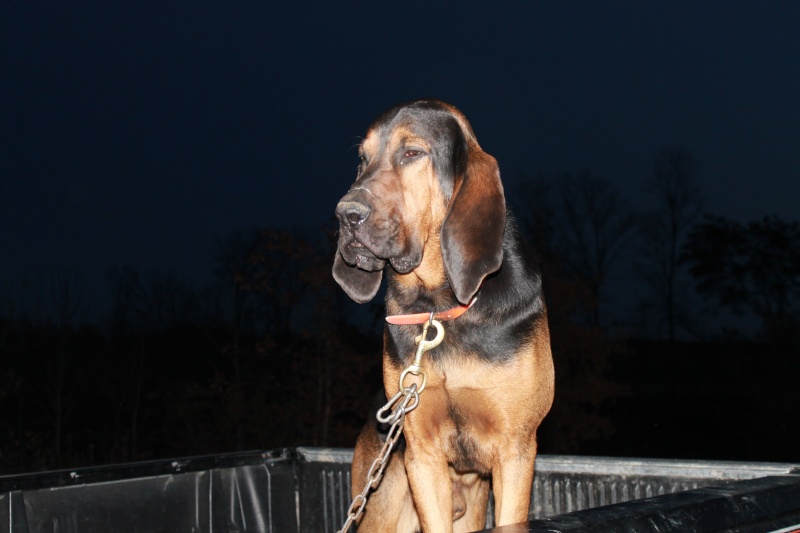 Well I took Dio and Ron to the first bed with blood I found.  Ron got Dio all scented up on the blood trail.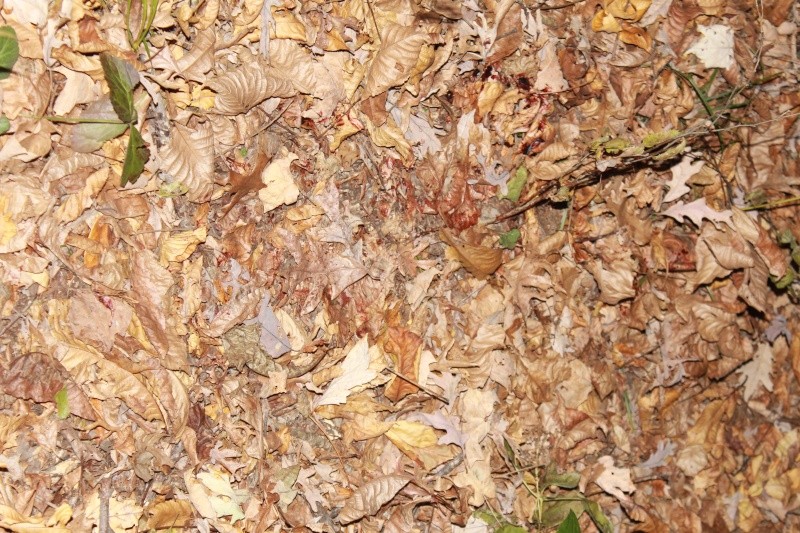 Dio was on it and we ended up tracking the buck for 3.6 miles (over the hill and through the woods, oh and a creek that was thigh high).  Dio was on it and we ended up only finding one more spec of blood, but myself and the tracker feel this buck is a healthy deer will recover fine from my shot.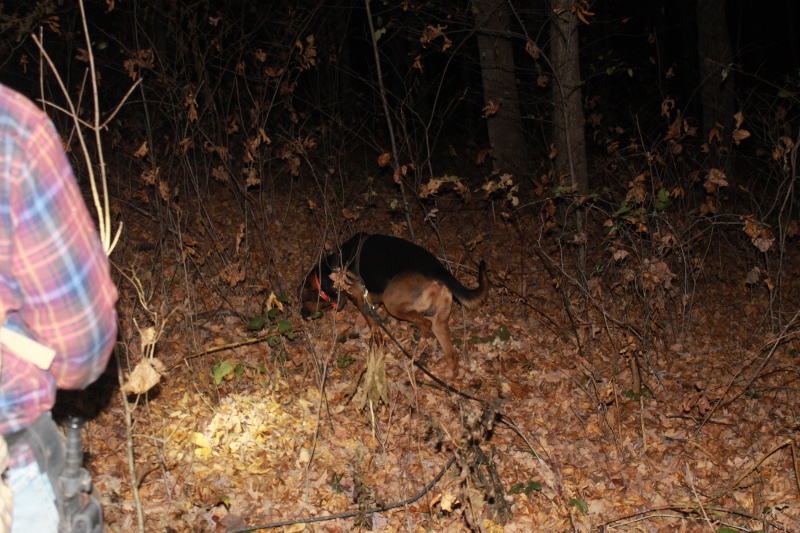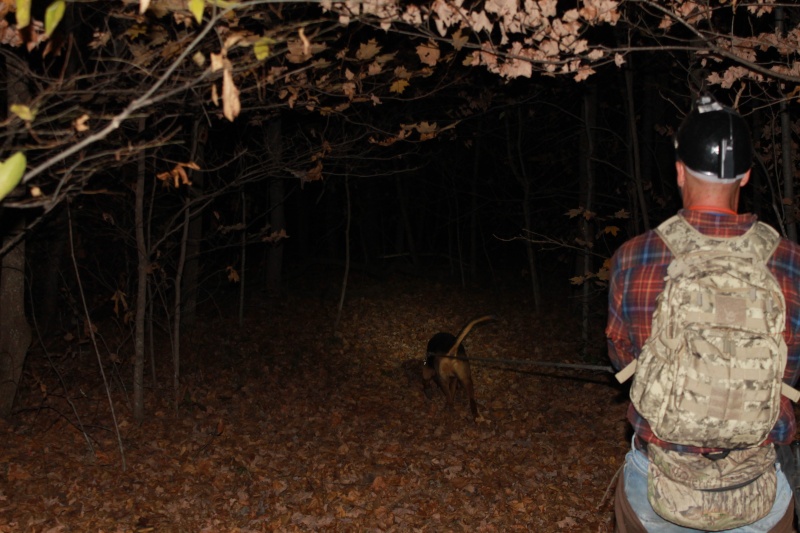 A total of 26hours had past since impact and to know this deer had gone as far as he had just made me feel a little better about my efforts.  I also thoroughly enjoyed watching this hound work.  The dedication and passion Ron has for this not so easy task is awesome.  It sucks I did not recover my deer, but I can only hope to get another shot at him in this years rut or during the late season, back on that winter wheat field.
Thank You Ron Slifer and Dio for all your hard work.  It was greatly appreciated.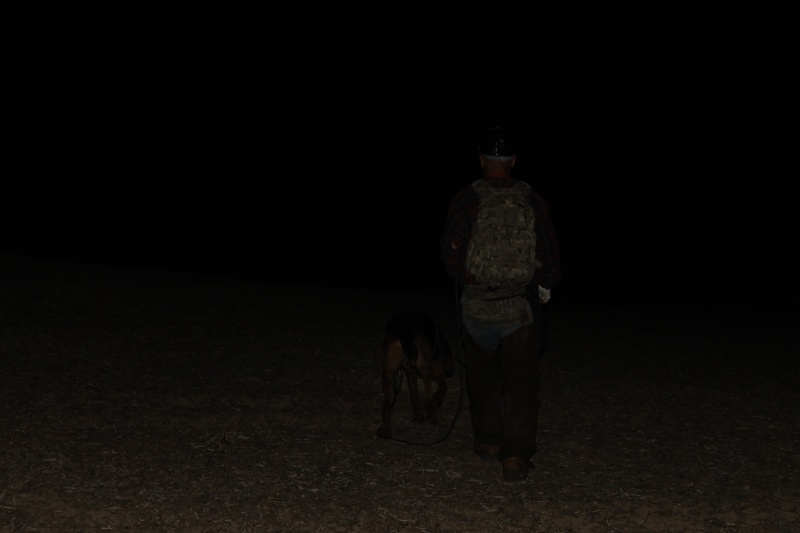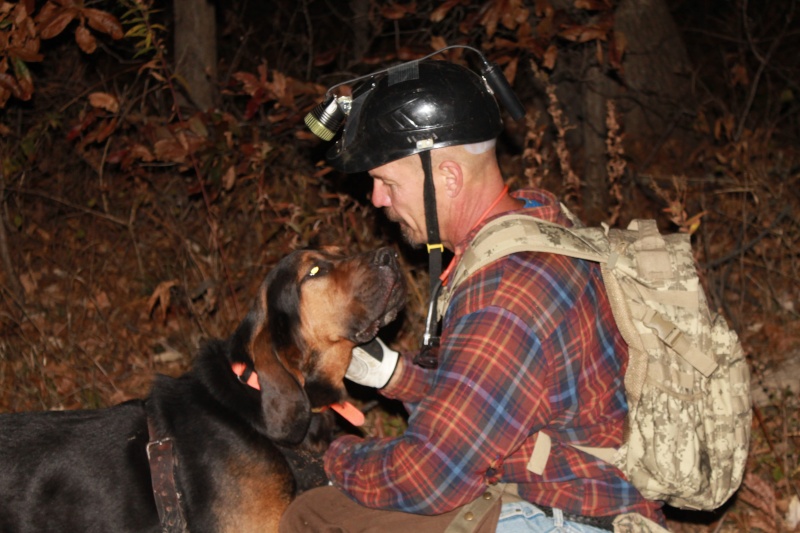 After the long lonely drive home I came up with a name for this buck and he is now named "Unbreakable" after a pretty good comic movie:
THE HUNT CONTINUES.....

Young

Super Booner!!





Posts

: 4110


Join date

: 2009-07-29


Age

: 31


Location

: Madison Co, IL



Mike what a great post, So  sorry you did not find him, but  I am not sure  I would give up just yet, we had few hunter's  from a neighboring  outfitter that hit shoulder- I found  2 of them dead   3 day's later when I  headed in to hunt.

_________________
USAHUNTINGPROS.COM ProStaff
Carbon Impact
Wildlife Research Center-http://www.wildlife.com/
Nikon
Hoyt Element
I love my whitetails and big ole ugly Jellyhead's

bowGal

Super Booner!!





Posts

: 16797


Join date

: 2009-04-19


Age

: 57


Location

: Pike,Adam's Co, Il



There is that hope Barb and my tag will gladly go on him if he is found.  It hasn't left my mind since we came up empty.  I will be back in the timber this weekend and I will be looking and scanning as I continue to hunt!  There are a ton of coyotes too, maybe I can close the chapter on this guy.

Young

Super Booner!!





Posts

: 4110


Join date

: 2009-07-29


Age

: 31


Location

: Madison Co, IL



Man that sucks you couldn't recover him, but a great post any way! Those blood dogs sure are neat! One of my goals over the next few years is to get a dog and train one to be a blood dog as well. Good luck catching up with that buck again this season!

MEhunter

St. Louis





Posts

: 815


Join date

: 2010-06-24


Location

: Maine



Great post and pictures!  It is cool to see the hound at work, and great  you guys have that that available to you. Good luck with him, I sure hope he shows up for you again and you can finish the job!

TheCReW

Super Booner!!





Posts

: 2634


Join date

: 2011-03-29


Age

: 36


Location

: Northern Saskatchewan




---
Permissions in this forum:
You
cannot
reply to topics in this forum