Scrolling through Facebook and seen we have this coming in. They said it's the coolest air in 21 years.... I sure hope my cameras survive it to! :/ 
Sorry it's a screen shot from my phone and it's kinda big lol.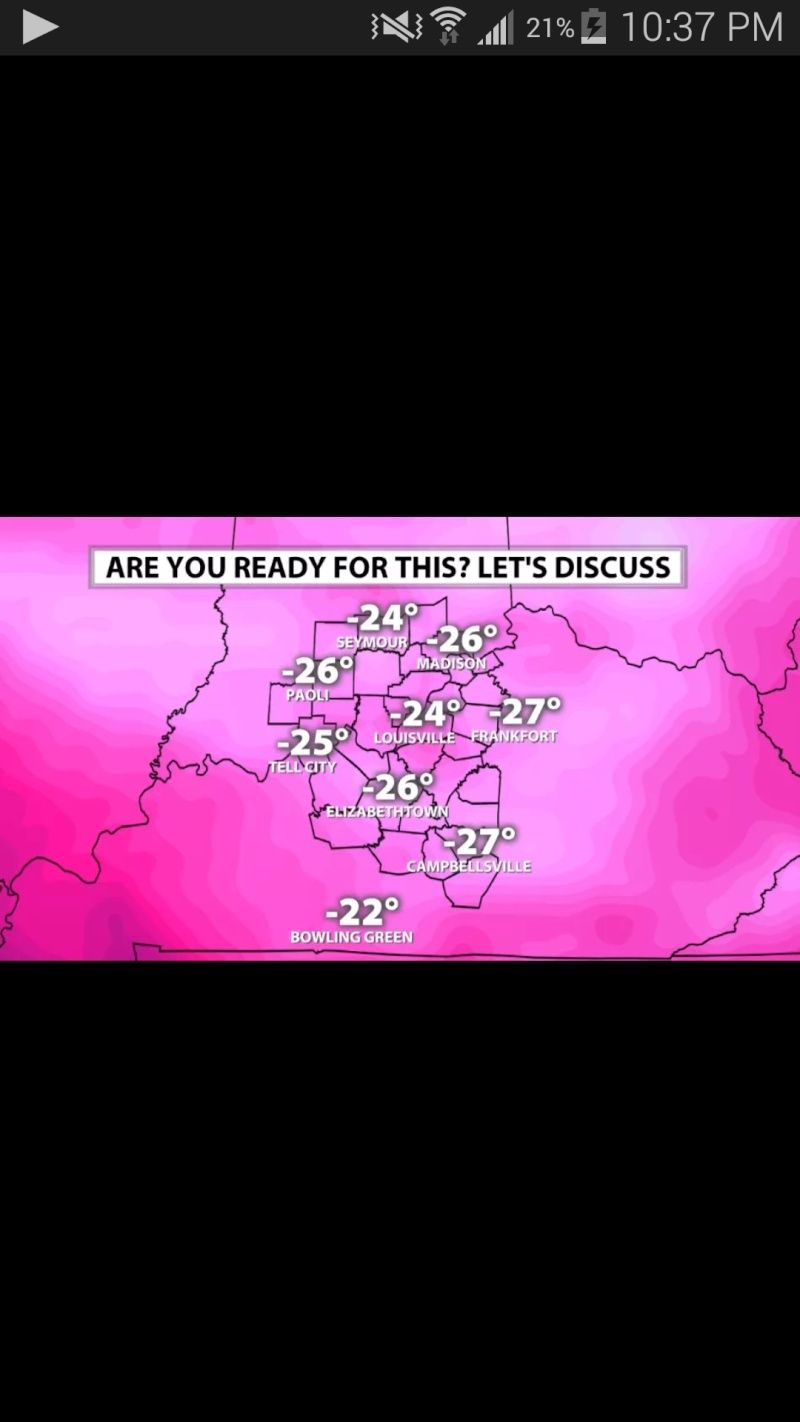 Last year (I think) it got like -10 and that was COLD. I hope the deer are nice and fattened up!
I finally got  to  10 camera'sa today and lets just say this darn cold  turned 20 sec, video clip's in to  2 second clips, All the ones set in photo  mode   held great battery life  tho. Going to take me awhile  to share any pictures, I started going through cards at 2:00pm  and  still have  3 more to go,  i will post up   a couple of short clips of this one yote,  I have no idea what  happened to his  tail but he was all over all the top east plots

_________________
USAHUNTINGPROS.COM ProStaff
Carbon Impact
Wildlife Research Center-http://www.wildlife.com/
Nikon
Hoyt Element
I love my whitetails and big ole ugly Jellyhead's

bowGal

Super Booner!!





Posts

: 16797


Join date

: 2009-04-19


Age

: 57


Location

: Pike,Adam's Co, Il



I don't feel sorry for them in my little "neck of the woods"!  I have been keeping the smorgasbord well stocked all week and they look very happy...nearly 30 outback last evening!  The really neat aspect of the severe cold is that even the inhibited bucks are coming in to feed in the daylight!  Got some really funny close ups of a couple of wise old bucks that rarely ever show themselves in daylight.  One buck appeared this week that I have not seen since August...I'm very excited because he is a beautiful mainframe 8!  I'll get the pics up now...
     6-8 " of new snow due today, I love it!

chukbuk

St. Louis





Posts

: 990


Join date

: 2009-06-11


Age

: 58


Location

: Stockton, NJ



Yeah it is amazing how tough they are and how they can get through short periods of bitter cold. If they have enough food wont be a problem!

TheCReW

Super Booner!!





Posts

: 2634


Join date

: 2011-03-29


Age

: 36


Location

: Northern Saskatchewan




---
Permissions in this forum:
You
cannot
reply to topics in this forum